Today was one of those perfect days which I think I'll replay in my mind again and again. The day started at 6am when my alarm went off.  I made coffee, read the news online, checked email. Then, I went off to teach yoga.  This morning's yoga was focused on the chakras.  Chakra Yoga was followed by breakfast.
At 10am, we left our cabins for Laugarvatn.  There we hiked a hillside in a wooded area. Along the trail, there were panels with depictions and Icelandic instructions for various stretches recommended while hiking.  After the hike (and the stretches), Einar drove us to the hot springs of Laugarvatn on the Golden Circle.  We first enjoyed lunch, a beautiful spread of delicious fresh vegetables and fish.  Some people in my group enjoyed bread which was baked using geothermal steam.  I have tasted it in the past and it is delicious.  After eating, we enjoyed the hot springs of Laugarvatn.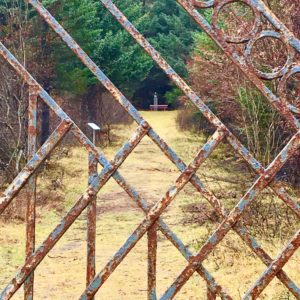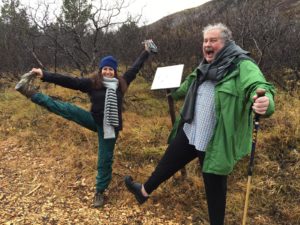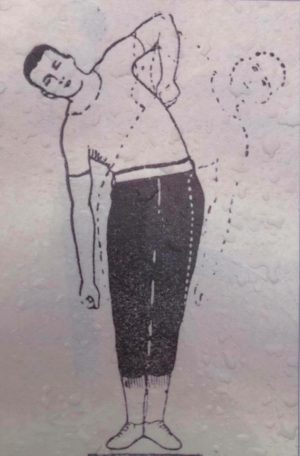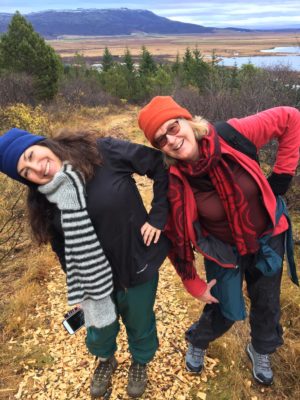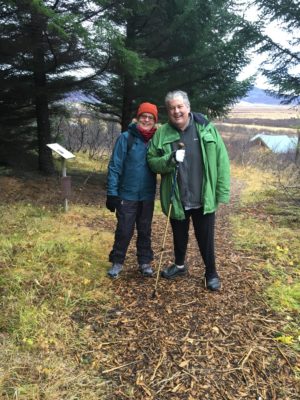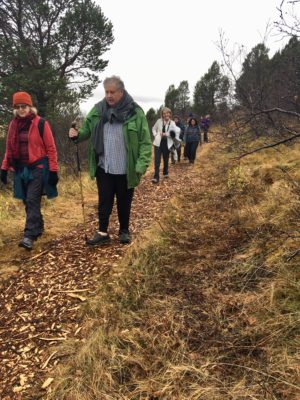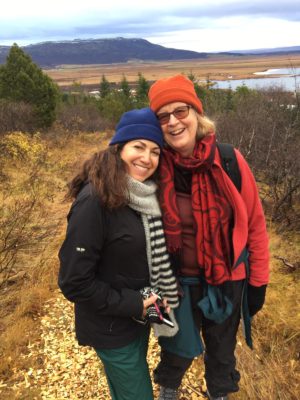 The hot springs are located in a lakefront spa, featuring natural steam baths, outdoor mineral pools and a sauna. There are various temperatures, one being especially hot. Soaking in geothermal springs is very healthy.  At Laugarvatn, we soaked in a natural pool lined with rocks. While inside the steam rooms (both wet and dry sauna rooms), we listened to the sound of the bubbling hot springs coming from deep within the earth.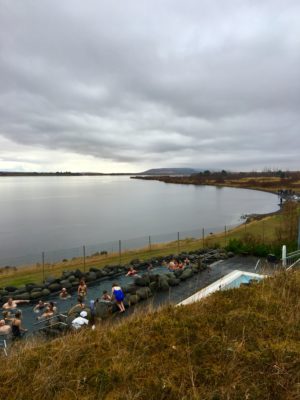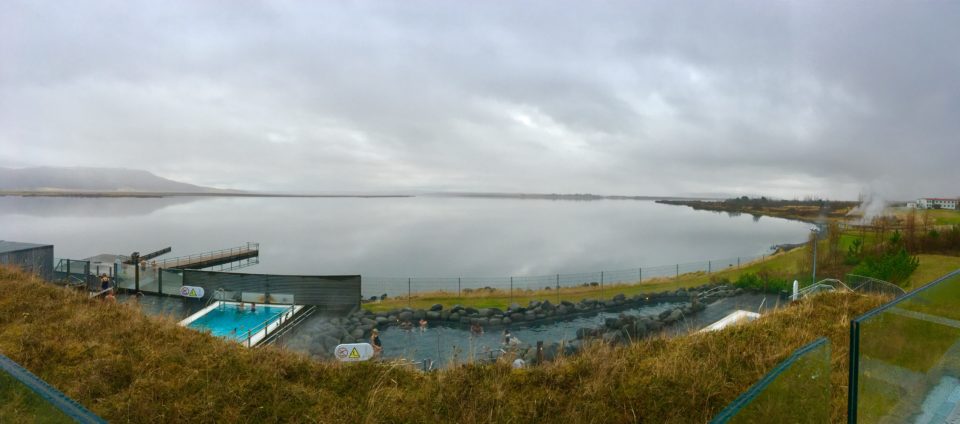 Every so often, when the heat became too intense, we bravely walked over to Laugarvatn Lake, which is right next to the springs, and took a very fast dip in the 40 degree Fahrenheit water! Every bracing dip came with a yip and a few loud shouts.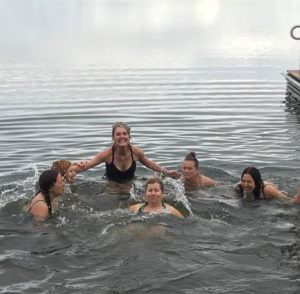 The day ended with a second yoga session (a focus on postures to strengthen bones) followed by another delicious dinner (three bean salad for the vegetarians and lamb for the others).
I am including some of the benefits of soaking in geothermal healing waters:
Anti-Ageing Properties  Hot springs are also recognised for their anti-ageing properties. Bathing in a hot spring increases the production of collagen and tightens the elastin within the second layer of the skin.

This leaves your skin looking both firm and youthful.

Other minerals such as calcium, lithium, magnesium and even radium also help improve your skin.

As geothermal water cools, it saturates and then forms into a white mud. This form is completely hypoallergenic and has anti-ageing properties that can firm the skin, reduce pores and revitalise appearances. It is also effective against rashes, sores and skin problems such as dermatitis and psoriasis.

Respiratory Problems  As well as improving your skin, taking a dip in a geothermal spring offers many additional benefits to your overall health. As mentioned above, sulphur is a common mineral found in hot springs.

Sulphur can help treat respiratory problems such as asthma, and it can help clear excess mucus from your lungs.

Pain Relief  Moreover, the heat and buoyancy of a hot spring is very therapeutic for your body. The buoyancy helps to reduce the body's work load.

As the body is focused on the sudden heat, the nervous system's sensitivity lowers and the heat becomes a form of therapy for sufferers of muscle pains and arthritis.

Soothe sore muscles and chilly limbs.

Better Blood Circulation Bathing in hot springs helps to boost blood circulation. As the skin soaks in minerals such as calcium and sodium, hydrostatic pressure increases.

This increases the flow of oxygen to our bodies and boosts blood circulation, keeping your body fit and strong.

Increases Endorphins Our bodies absorb minerals in the water which stimulate the immune system and strengthen it. These minerals enhance the production of endorphins within the body and this interacts with receptors in the brain.

Think of it as a "happy chemical", endorphins release a positive feeling and relieve the body and mind of stress whilst alleviating tension in tired muscles.

Overall, regular geothermal bathing can help normalize your body's functions and nervous system whilst drastically improving your skin's condition.

There's a whole lot of magic going on here in Iceland!