I'm back from Maui and my heart is happy to have traveled there. It was relaxing to bask in the sunshine, enjoy the warmth of the island, and marvel at the lava-red sunsets. I still have a few Maui blog posts to write and will write them and line them up for the next couple of days so you can travel vicariously with me!
'Twas Mark Twain whose heart was captured by the great beauty of Maui way back in 1866. Mark Twain was Missouri's famed son. He was a quick-witted American writer, journalist, humorist, entrepreneur, publisher, lecturer, silver miner, world traveler, popular public speaker, and keen observer of life.  One of the most influential American writers, he painted word-portraits of the world he lived in.  He was only 30 years old when he traveled to Maui, Oahu, and Hawai'i Island.  Clearly, he had a great time:
Twain hiked through Hawaii's beauteous jungle. He surfed naked on a wooden surfboard. He rode horseback across the plains.
When Twain visited Maui, the Hawaiian Islands were a full 93 years away from American statehood.  Hawai'i wasn't even a US territory when Twain traveled there. It became US territory in 1898 and became the fiftieth state in 1959.  Back in 1866, the islands were known as the "Sandwich Islands", so named in 1778 by Captain Cook after the man who sponsored Cook's voyage, the Earl of Sandwich.
Twain spent five weeks in Maui during an overall four-month visit on the Hawaiian Islands and for the rest of his life, he longed to return.   I had prepared the following excerpts before traveling to Maui, hoping to share them with my fellow traveling friends on the day we went to Haleakala Crater and National Park.  I thought the following Twain quotes would be inspirational because Twain climbed the same crater we were at and described it as the "sublimest spectacle" he had ever seen.  However, sharing what I had prepared was not to be while in Maui, so I am now sharing my selected excerpts from Mark Twain below, along with some of my photos.
"I went to Maui to stay a week and remained five. I never spent so pleasant a month before, or bade any place goodbye so regretfully. I have not once thought of business, or care or human toil or trouble or sorrow or weariness, and the memory of it will remain with me always."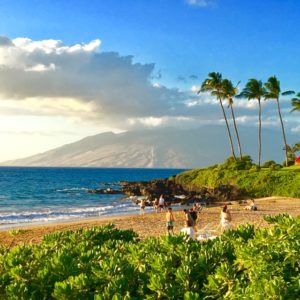 "The native language is soft and liquid and flexible and in every way efficient and satisfactory–till you get mad; then there you are; there isn't anything in it to swear with," he wrote.
No alien land in all the world has any deep, strong charm for me but that one; no other land could so longingly and beseechingly haunt me, sleeping and waking, through half a lifetime, as that one has done. Other things leave me, but it abides; other things change, but it remains the same. For me its balmy airs are always blowing, its summer seas flashing in the sun; the pulsing of its surf-beat in my ear; I can see its garlanded crags, its leaping cascades, its plumy palms drowsing by the shore; its remote summits floating like islands above the cloud rack; I can feel the spirit of its wooded solitudes; I can hear the splash of its brooks; in my nostrils still lives the breath of flowers that perished twenty years ago.
– Samuel M. Clemens (Mark Twain), Paradise of the Pacific, April 1910
This is the most magnificent, balmy atmosphere in the world–ought to take dead men out of grave. -quoted in Mark Twain in Hawaii
Tags: beauty, flowers!, Haleakala, health, Mark Twain, maui, nature, Sunsets, travel, vacation