A dearth of blog posts from me. Don't worry, I tell myself. I will pick up the pace again. Here's some free-writing from today…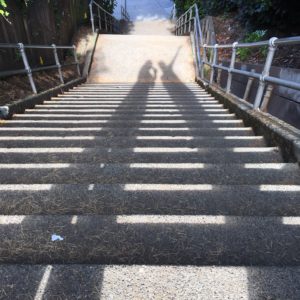 Cotton Kills Every Monday and Wednesday, rain or shine, I climb the dreaded-and-yet-welcoming Capitol Hill tough-but-essential-cardio-stairs with Jeri… Post workout, I tell Jeri I'm heading to Stehekin where I will hike with Leslie. "Cotton Kills" Jeri jokingly reminds me, referring to the story I told her about hiking Granite Mountain one hot summer day with my hiking-buddy Leslie:  In the city it was 90 degrees, but up-mountain, it was a refreshing 15-20 degrees cooler. We reached the almost-summit and decided that yes, we would hike to the top. So we hiked up and across a stretch of winter-remnant snow. The snow gave off a refreshing feel against the hot summer sun. We felt utterly alive atop the mountain. We decided to sit on the snow and slide back down, oh so fast and much fun! My cotton day-hiking pants got wet from the snow. "I've got a soggy bottom," I said and we giggled until our bellies ached. We continued down the path, winding our way back down Granite Mountain, towards the car. We were giddy from the pine-scented air, the delicious sunshine, the feeling of being healthy and able-bodied. We were tired, but satisfied with the day's hike.
Breathing deeply, invigorated by the healthy chemicals so generously emitted by the forest, we came across two men on the trail. One of the men looked at me disapprovingly. He stepped closer to me. "We are Mountaineers", he said with authority. With a loud commanding voice, he warned me, "We're on the trails looking for people like you!" His face fully scrunched up now, he got even closer and asked, "Don't you know Cotton Kills?" Apparently, he had taken note of my seat-of-the-cotton-pants-snowmelt! Quick-to-the-forefront, Leslie had my back, "Well, I'm also a mountaineer. And we are out here enjoying nature. Comment on that!" And off we went, letting the admonishments slide off our shoulders, nearly skipping down the trail with more energy than ever, my green cotton pants drying as we descended.
Cotton Kills.
Good people rock my world!
Below, two photos from Granite Mountain:
Reading I think of all that is going on in my life and I sink my teeth into the book I'm about to finish, How to Stop Time by Matt Haig. It is fascinating. Stop time?? How about simply slowing down time? The story makes its way into my dreams. Reality and dreams merge.
A Time to Give Outside Cherry Street Coffee Shop, a sad-eyed, toothless, aged, barely-verbal homeless woman communicates that she would like a coffee. The crooked lines of her hand-written sign tells us she is deaf. OK! We will get you a coffee. I move my mouth around the words in an exaggerated way so she can read my lips. With her hands, she tells us she would like her coffee with cream and two teaspoons of sugar. Language is series of universal gestures!
We go into the coffee shop, stand in line to order her coffee. Wait, she should also have something to eat! Oh, but what can she eat without any teeth? I look for the softest muffin to be had and find one. As I fish around in my wallet to grab a few dollars to help pay for the purchase, a man we do not know, appears and says, "I'd like to contribute, too." He hands over some money. Homelessness has a real face, a beating heart. Homelessness is a life lived and still living.
The Work of a Yogi My little yoga-buddy cries as I attempt to do our Adaptive Yoga Therapy session. He doesn't feel well and is feeling some pain. For the next twenty minutes, all I can do is rub his back and hold him tenderly. The sound of his pain is met by my cooing and om-ing. His pain drains me. Two days later I am doing yoga with him again and this time, he feels much better. As we do Adaptive Yoga Therapy, he giggles and he smiles. His smile lights up the world.
Stehekin, Washington and my Cinnamon Bear Pitch on my clean feet: the gift of pine trees…yoga practice next to the glacial run-off of the Stehekin River. Slight breeze and delicious air make for a great yoga session. Cozy cabin gives us shelter. Thick down comforter lends to deep dreams, dreams of my cousin, east-coast Fran, great story-teller of family lore, a living memory bank for the Gallo family.
Where is Stehekin?, Seattleites ask. Stehekin, Washington is a hidden treasure at the mouth of the Stehekin River. Paradise. Wilderness. It is an annual trip I anticipate every summer. Leslie and I log on 18 miles over the weekend as we hike to Rainbow Falls, the Stehekin River Trail, and Agnes Gorge. Rick goes fly fishing and catches us trout for dinner.
It is at Agnes Gorge where we see the bear, a gorgeous healthy hefty teenager of a bear with the shiniest cinnamon-colored coat ever! I could not have dreamed up this color. He is oh-so-handsome.  He was too busy eating berries to even notice us. I felt calm watching him, "our" handsome Cinnamon Bear.
(Cinnamon Bear's photo didn't come out so well. All I had was my iPhone.)
Sculpture Park Yoga in Sculpture Park with 15 fabulous yogis. Our session took place on the grassy steps leading to Richard Serra's Wake sculptures. The sculptures are like colossal waves made of weathered steel, produced by the artist after the loss of his partner.
A wave of grief.
A wave of life.
A wave of love.
A wave of hope.
Our session is followed by a potluck and we celebrate three hearty septuagenarians from our class. Want to stay youthful? Keep doing your yoga! (or start your yoga practice now!) A curious passer-by asks, "Is this a Yoga Potluck???"
YESSSS!
(Thank you to Kim for the following photos from Sculpture Park):
Little Renaissance Ocean air, a world away from the city…birdsong and the sound of waves are crashing on the nearby shore. "Are you the owner?" he asks. It is clear they are in love with the sanctuary we have created the last twenty years. In my head, I keep hearing All you need is one buyer! Precocious nature-loving, bird-adoring little boy winks and declares this is THE house they've been looking for. Pending status is our reality as I write out this free-thought of a blog post.
Saying My Prayers Say or think what you will: St. Anthony is the saint to whom I owe many thanks. My prayers to him have come through with Little Renaissance finding a loving and appreciative family to steward our precious ocean property…. and to finding and being reunited with my backpack (with my computer in it) after I left it on the city bus downtown Seattle! No, Rick. I didn't tell you about that one until now! Oy! Thank you, Mary Magnano, for giving me the St. Anthony santuzzu (Sicilian word for "saint card").
Waves keep on crashin'
Breathe.
Happy August, readers!