Cold weather wears down batteries fast.  On the Langjökull Glacier, I was able to get one quick shot before my camera battery died. It is of Lisa and Rich walking in a near white out, walking to the edge of Iceland's second largest glacier.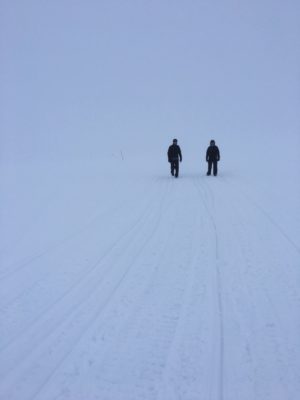 Einar guided us on our hour hike in the freezing temperatures. The snow and wind blotted out the place where you would normally see the edge of the glacier.  We followed the tracks of the snowmobiles and the occasional flag indicating the way towards the glacier.  The glacier visit was thrilling!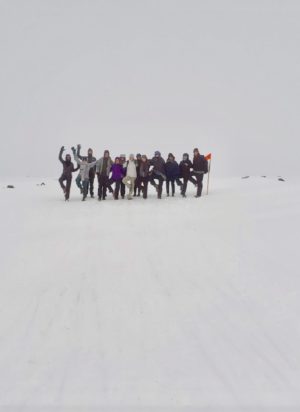 Actually, we were so bundled up that I don't think anyone really felt cold. Under my layers, I was toasty warm.  Once we got back to the bus, I was able to get to my other camera and took a few more photos. The photos below are almost identical, but taken moments apart. You can see that the light changes constantly. One second it could be blizzard like conditions and the next moment, a blue sky peaks through the clouds.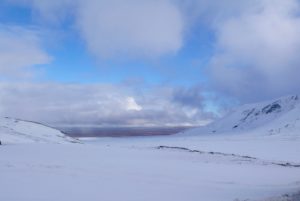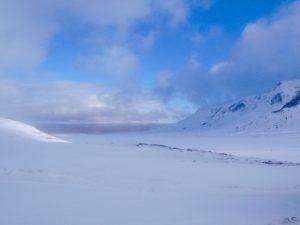 Back at the cabins, we pet Orvar's elderly dog, the sweet Dexter!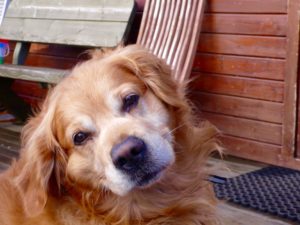 After eating a late lunch, we soaked in the hot tubs and then did yoga.  I have not taken a single yoga photo, but Kevin got this shot of our yoga space.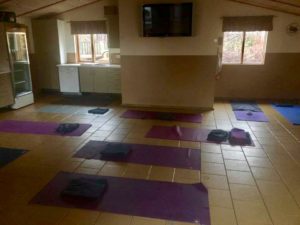 Kevin also took this shot of our cabins: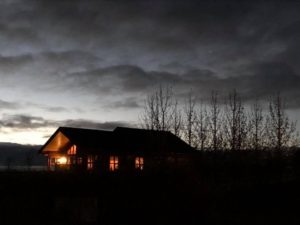 I read the following poem (and a few others after yoga today). I am not sure of the Icelandic author's name:
Storming Weather

Boisterous cold wind

Frozen sun fully exposed

Advancing snow storms